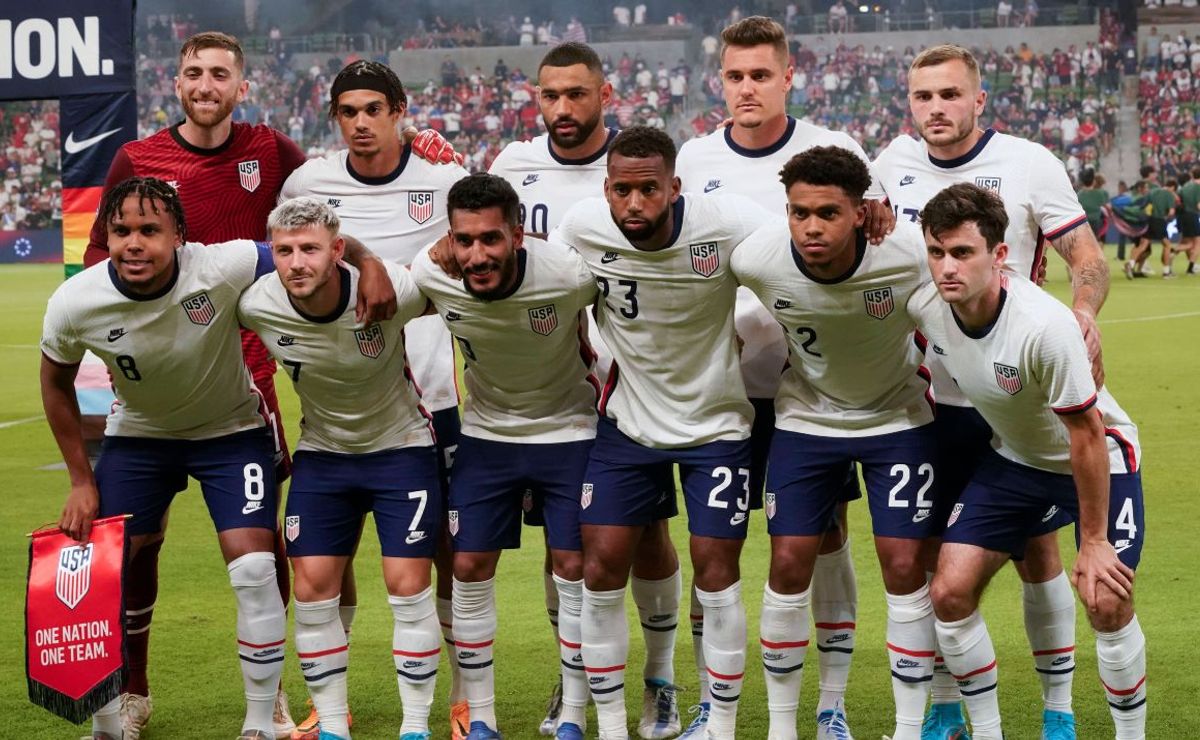 The surprise meter certainly didn't rise to the level of "Landon Donovan in 2014" when America's last World Cup roster dropped, but USMNT head coach Gregg Berhalter certainly gave the media and supporters plenty of meat. to chew like the official 26-man team. he was officially appointed.
Discussions will certainly linger over some picks, particularly goalkeeper and forward, and Berhalter's sudden infatuation with right-backs, all of which reduce the US national team boss to a slow target for players. critics if his young group of American brothers fails to emerge from a rather forgivable group in Qatar. On the other hand, most of the drama (and thus the dismay of the fans) was the competition of the final part of their 26-man selection.
Surprises in the selection of the USMNT squad
The omission of Ricardo Pepi is the big hit, both for his ostensible substitution and for his absence. Instead of a place for the academy product of FC Dallas, who never got off the ground at Germany's Augsburg but made a lot of noise of late with prolific goals on loan to Dutch football's Groningen, there was room on the roster for Haji. Wright. Yep, the same Haji Wright who's barely been in the conversation lately. Consider that Wright wasn't even among the eight forwards named for those recent friendlies.
So that's as close as we'll get to Jürgen Klinsmann's notorious Donovan downfall, when the mercurial US boss made us all nervous by excusing one of the country's top attacking players from his duty before the Cup World Cup 2014.
Aside from Pepi, the only option on Wednesday that merits more than disbelief, the stuff normally reserved for fans who haven't been paying close attention or can't see the big picture, is Zack Steffen's omission.
That one did surprise everyone who saw Steffen play so regularly with Berhalter over the past three years. It must also have been a disappointment to those who were sure that Berhalter "had his favorites", whatever that means, and he would stubbornly stick with them. The US coach clearly took note that Steffen's performances on loan at England's second-tier championship side Middlesbrough have been mixed.
So now we all hold our breath as we hope Arsenal goalkeeper Matt Turner can overcome a recent injury setback.
US search for proven striker continues
Let's go back to the omission of Pepi, Wednesday's grave head-scratcher. If the goals come pouring in against Wales, England and Iran, well, Berhalter will be out of the woods on this one. That seems unlikely, especially since the team failed to find the net even once in recent rallies against Japan and Saudi Arabia. And considering that top American threats Christian Pulisic, Gio Reyna and Timothy Weah haven't always been in the best spots lately in terms of form, injuries or overall ability to convince their coaches on playing time, the pick of the strikers was always going to be a problem. sensitive and important topic.
Jesús Ferreira has recently become the coach's No. 9. Though his MLS shooting rate dropped considerably in late summer, the 18-goal scorer's selection from FC Dallas never seemed in doubt. Josh Sargent might be on the 'mild surprise' list, though his quick start this season at Norwich City, coupled with his physical presence and skill from set pieces, surely made Sargent's backers feel better lately.
But Berhalter's choice for a third striker is harder to explain. He did the best he could in the comments on Wednesday night, simply highlighting the cruel vagaries of time and form. If the World Cup roster had been selected two months ago, he said, Jordan Pefok would likely be heading to Qatar.
Haji Wright's surprise
So instead of Pepi or Pefok or even Brandon Vazquez, whose skill set may be a bit limited but who would have been brilliant as a designated "puncher" in the final moments of the desperate goal-chasing game, the spot went to Wright. . Yes, the same Wright who seemed out of favor in June, singled out by Berhalter for blowing a chance in a 1-1 qualifying draw in El Salvador.
Wright's 6-foot-3 frame may be imposing, but he's not the absolute bulldog near the goal that Vazquez was in his breakout year for FC Cincinnati. Now, if Berhalter needs to dig deep enough into his striker choices, which seems quite possible given Reyna's proneness to injury and Pulisic's in-and-out form for club and country, he'll be devoting much of his security continued labor to Wright.
Elsewhere, Wednesday's reveal was less dramatic. Unless that's his name, it's Paul Arriola, another frequent flyer from Berhalter who stayed behind. Or Boavista's Reggie Cannon, who lost his backup right back job to Nashville SC's Shaq Moore. Or Rangers midfielder Malik Tillman, who still seemed to have an outside shot.
There will be those who cite the absence of Gaga Slonina as a mistake. And they will be wrong. Slonina's roof looks remarkable, which is why the 18-year-old goalkeeper is currently on loan at Chelsea. But most World Cup bosses disagree with the "take it from experience" strategy. If a keeper gets hurt or has to serve a red card suspension, that would leave the US precariously close to defending goal with a guy who made his share of mistakes last season in Chicago.
Questions remain in defense
We still don't know who will join Walker Zimmerman in central defense, but at least we know Berhalter's final picks, disappointing as they are. It will most likely be New York Red Bulls defender Aaron Long, though being held up by Vazquez (who, remember, wasn't part of the US team) for a game-winning goal in recent playoffs of MLS is a perplexing moment.
Chris Richards (Crystal Palace) or Miles Robinson (Atlanta United) would have had the inside track in that initial assignment, but injuries took them out of the roster equation. So now it's the dealer's choice in a worrying central defense situation. And that's a central defense that now protects a US goalkeeping situation that hasn't been this shaky before a World Cup in… well, never really.
Tacticians will point to Ream's imperfect fit if Berhalter chooses to play a high line defensively and push aggressively against them, which has always been the US plan in this current regime, sometimes working and sometimes not so much. Ream was never blessed with breakneck speed, and he is now 35 years old. But his splendid play of late at a surprisingly resilient Fulham was something of a lifeline for Berhalter, who would otherwise have been hungry for better options. (That lack of choice may help explain the coach's selection of four (!) potential right-backs.) And something else that doesn't hurt: Ream's experience against many attackers that the United States will see against Wales and England.
balance in midfield
There are no surprises in midfield, with Tyler Adams, Weston McKennie and Yunus Musah all likely to form the triangle when the United States take on Wales on November 21. Only the name of Cristian Roldan may have rung a soft bell of surprise. He has been a regular on the roster under Berhalter, though he is a rare starter. He may take the field in Qatar, he may not. But when rosters expanded to 26 players (previously 23) for 2022, taking on a type of "locker room" became a luxury that was easier to justify.
Sounders teammate Jordan Morris, who can provide a tactical "something different" with his speed and direct-on-goal style from wide starting points, was likely another beneficiary of the expanded roster.
The list is not final. That happens with the official presentation to FIFA no later than November 14. Even then, injured players can be replaced on the roster up to 24 hours before the US opener against Wales.
GOALKEEPERS: Ethan Horvath, Sean Johnson, Matt Turner
DEFENDERS: Cameron Carter-Vickers, Sergiño Dest, Aaron Long, Shaq Moore, Tim Ream, Antonee Robinson, Joe Scally, DeAndre Yedlin, Walker Zimmerman
MIDFIELDERS: Brenden Aaronson, Kellyn Acosta, Tyler Adams, Luca de la Torre, Weston McKennie, Yunus Musah, Cristian Roldan
FORWARDS: Jesus Ferreira, Jordan Morris, Christian Pulisic, Gio Reyna, Josh Sargent, Tim Weah, Haji Wright
Photo Credit: IMAGO/ZUMA Wire
World Cup 2022 Guide
Here are some resources to help you get the most out of soccer's biggest event!