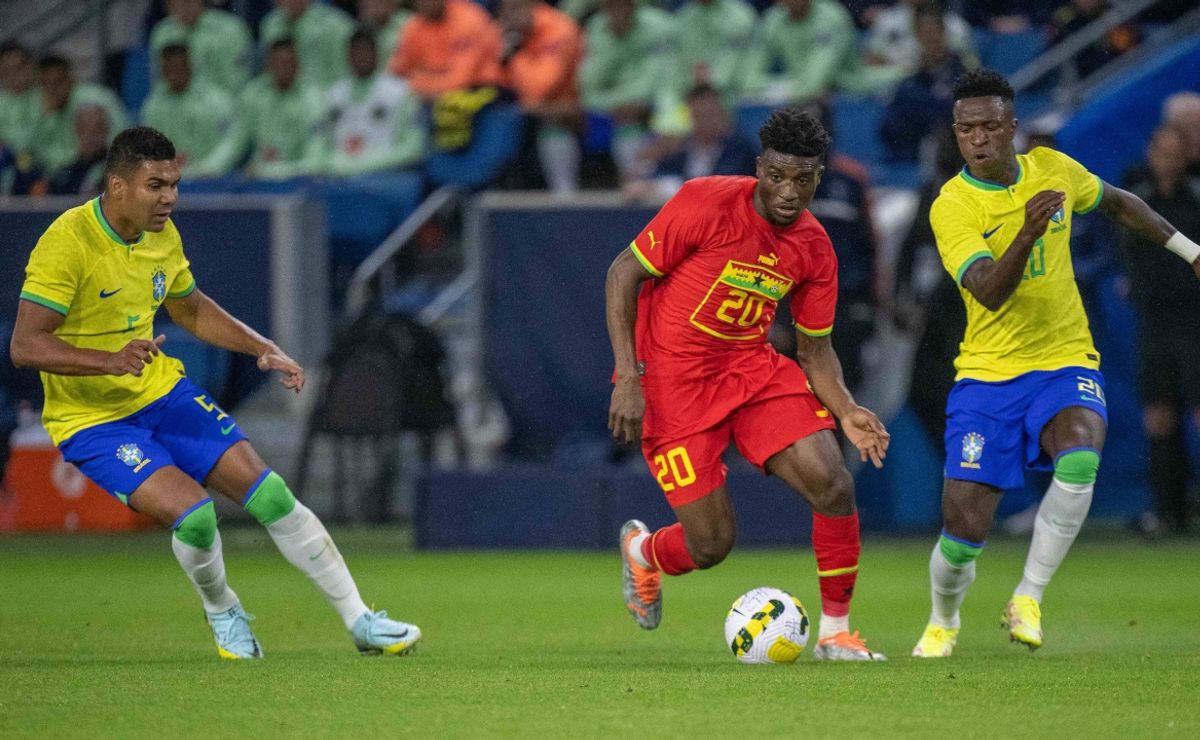 Ghana heads into the 2022 World Cup without their country's top scorer for the first time, but Ajax's Mohammed Kudus may be the solution.
The old focal point
In his previous three appearances, Asamoah "Baby Jet" Gyan led the team in goals each time. He is the first male soccer player to score in nine consecutive major tournaments. Cristiano Ronaldo has since equaled the feat. CR7 has a chance to surpass Gyan's feat at the next tournament in Qatar.
The two-time Ghanaian Player of the Year dreamed of making a comeback during the summer but squashed the idea due to his lack of fitness. In his absence, Jordan Ayew filled the void. However, head coach Patrick Vieira uses Ayew as a winger at Crystal Palace due to his work-rate and defensive intensity. He also talks about his lack of efficiency in front of goal.
Felix Afena-Gyan is another option. Head coach Otto Addo asked Afena-Gyan to lead the attack against Nigeria in the Confederation of African Football World Cup play-off, but the youngster failed to score.
Subsequently, Iñaki Williams changes his nationality from Spain to the land of his parents and ancestors. The Athletic Bilbao striker is now the main outlet in the final third. However, another player should be called in for that role.
Mohammed Kudus may be the star of Ghana
Antony's arrival at Manchester United gave way to Mohammed Kudus breaking into Ajax's starting eleven. Before the season, head coach Alfred Schreuder mentioned how he planned to use Kudus as an inverted right winger to utilize his left foot and a false 9 to take advantage of the Ghanaian's creativity and playmaking in midfield. Before this season, Kudus played primarily as a No. 10 and central midfielder. Initially, Kudus was not interested in the position change. He tried to force a move because he was given limited playing time.
"Everton offered me a great opportunity and I wanted to try it. No footballer wants to sit on the bench, and neither do I. Although I understood that not everyone can play all the time, Everton seemed like a good option at the time. It's not that I didn't want to train, but I'm human and I had a lot to deal with in a very short time. The chapter is now over and I am still here," Kudus told Dutch outlet NOS.
In the UEFA Champions League, Kudus displays his skills for the football world to see. Playing mostly the role of false 9, he leads his club with four goals, two assists and 1.8 dribbles per game. Some consider his style to be too selfish. The two-time Eredivisie winner may be holding the ball for too long. This is just his style of play.
"With my skills, most of the time I am taking risks in the game and trying to create things on the pitch," Kudus told TV3 in Ghana. "So that's what it looks like, holding on to the ball, but [I'm] just trying to create things for the team to win.
He scores a sensational goal against Liverpool which impresses manager Jurgen Klopp and receives the Man of the Match award twice for his performances. Unfortunately, Ajax will be heading into the UEFA Europa League after finishing third in their Champions League group. They will face Union Berlin starting in February.
A new beginning
Williams' forward three on the left, Kudus in the middle and captain Andre Ayew on the right can be dangerous. Williams and Ayew have the tenacity and movement off the ball to be effective as inverted wingers. Kudus' creativity and link play will come in handy, especially as the Black Stars' midfield is not expected to dominate possession against their World Cup opponents.
Ghana was dangerous under Gyan because their counter attacking system created chances when they lacked playmakers. Kudus recently teamed up with Thomas Partey in midfield, however he is more effective at finishing and creating attacks rather than concentrating on setup play.
For Ghana to advance out of their tough group, Addo must build his team around a prodigious talent in Mohammed Kudus.
PHOTO: IMAGO / Sebastian Frej
World Cup 2022 Guide
Here are some resources to help you get the most out of soccer's biggest event!