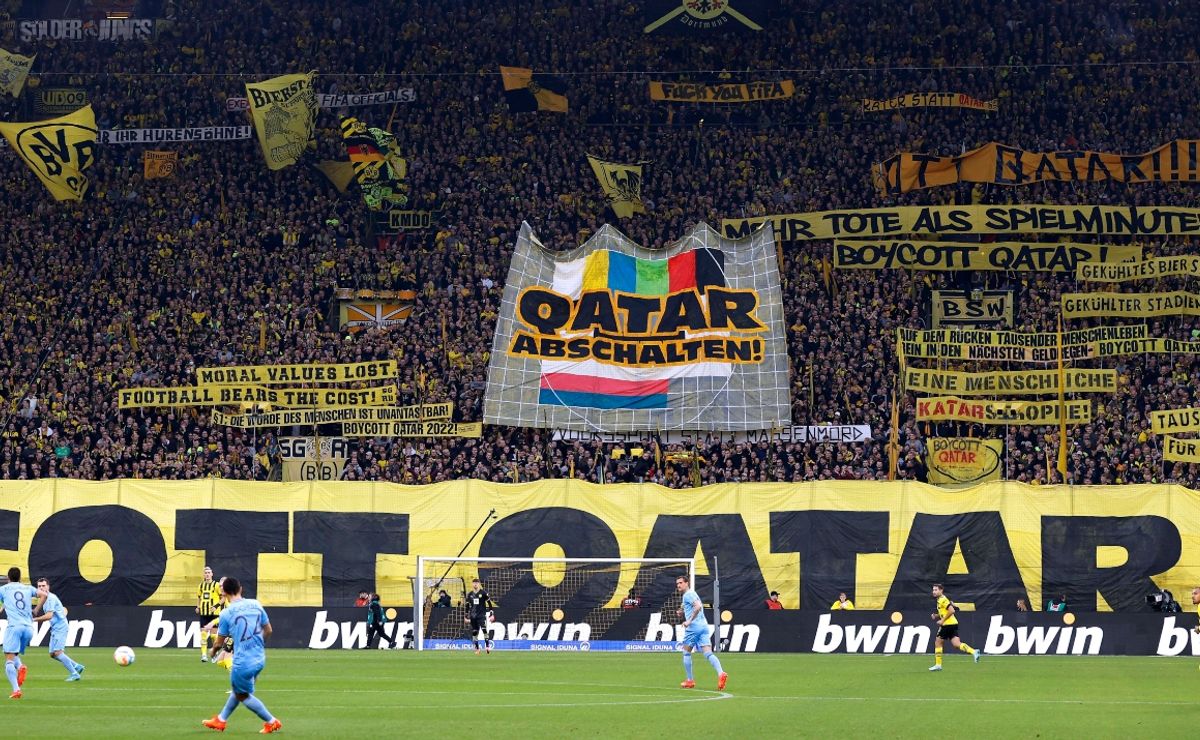 At least three groups of fans raised banners to protest the Qatar World Cup during Bundesliga matches on Saturday.
Sections of the supporters of Borussia Dortmund, Bayern Munich and Hertha Berlin showed their opposition to the upcoming tournament.
Fans display powerful protest banners
The match between Hertha and Bayern featured a giant banner reading "Boycott Qatar 2022". Clearly displayed along the front wall of fans in row one, the sign was easily spotted by television cameras. The match was played at Hertha's Olympiastadion.
Bayern fans held up a banner with a more damning message.
The banner at the visiting end read '15,000 dead for 5,760 minutes of football'. What a shame' in German. The visiting Bayern won the match 3-2 in an exciting game. All five goals of the match were scored in the first half.
Dortmund fans fill section of stadium with protest banners
Dortmund fans also displayed banners protesting the Qatar World Cup.
A large 'Boycott Qatar 2022' banner stood out against the yellow wall. Another banner proclaimed 'Qatar Abschalten!' Which translates to 'Qatar off!' in English.
Banners inside Signal Iduna Park filled parts of the stands. One section contained at least 15 posters in total that referenced the World Cup. A broadcast camera covered the section throughout the match. One of the most notable posters proclaimed 'more dead than minutes played'.
Dortmund collected all three points in the game against VFL Bochum with a 3-0 win.
Youssoufa Moukoko scored a brace in the first half, while US men's midfielder Giovanni Reyna also added a goal. Moukoko, 17, became the youngest Bundesliga player to reach 10 league goals in his career.
The 2022 World Cup in Qatar starts in almost two weeks.
The tournament has received virtually constant criticism since the Middle Eastern country won the bid to host it a few years ago.
Human rights issues, competition scheduling, and the migrant worker crisis are at the forefront of public concern.
Photo credit: IMAGO / Laci Perenyi
World Cup 2022 Guide
Here are some resources to help you get the most out of soccer's biggest event!