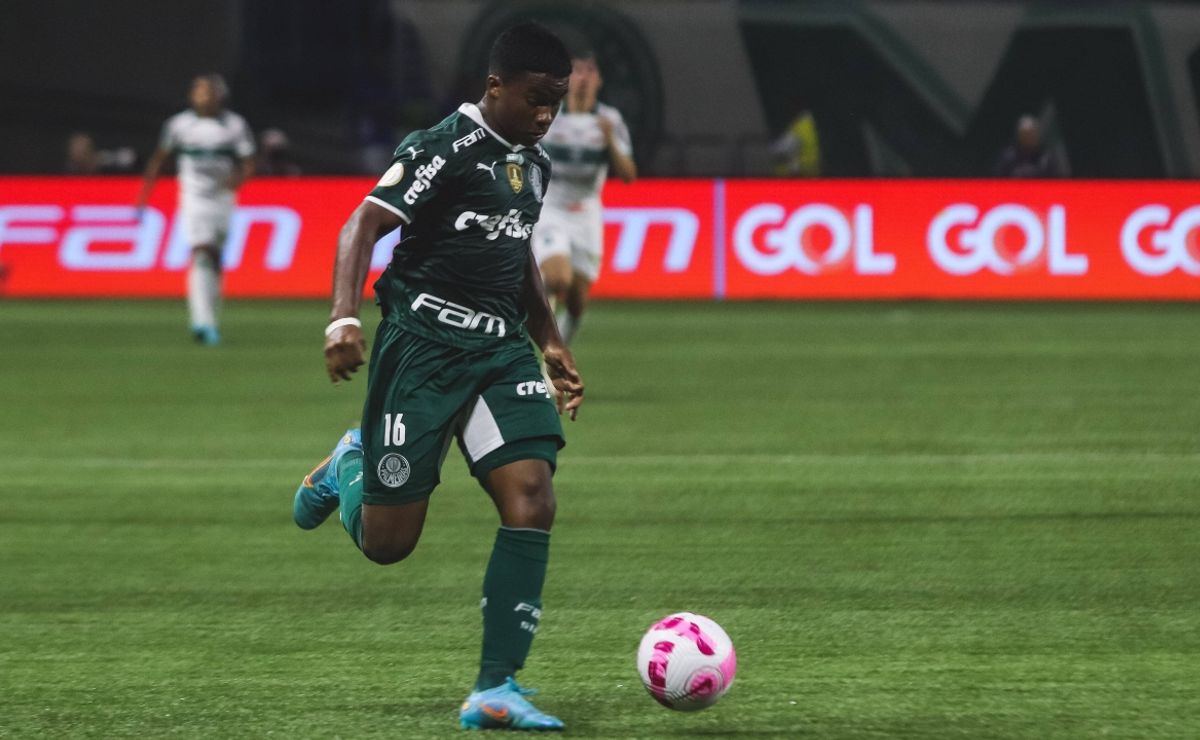 Palmeiras and Brazil supporters hope this is the last time Endrick is compared to Theo Walcott, but the 16-year-old could be a wild card for the Selecao at the 2022 World Cup.
Brazil fans are excited at the prospect of Endrick becoming one of the best footballers in the world. At such a tender age, it's important to temper expectations. However, Endrick is targeted as the next Neymar/Vinicius Jr.
Despite making just four appearances in the Brazilian Serie A in 2022, the prodigious talent is on course for a late call-up to Brazil's World Cup squad.
In those four games he has scored twice. Endrick has also contributed an assist. Statistics don't tell the whole story. The teenager's talent is clear when he is on the ball. He has the grace and poise reminiscent of the best.
Could Endrick join Brazil in the World Cup?
Endrick has just started to make his way as a professional footballer. He is not yet a definitive starter for Palmeiras and has not received a full cap for Brazil.
In 2006, Theo Walcott was tipped as England's next great player. He had it all. Electric rhythm and close control. Walcott had been signed by Arsenal, despite making just 13 appearances for Southampton.
So it was a monumental surprise when Sven-Goran Eriksson chose the 17-year-old Walcott to go to the 2006 World Cup.
Endrick, of course, wasn't even born when this decision was made, but the comparisons are obvious.
Eriksson's reasoning was that Walcott was a secret weapon. He had the talent to make a difference off the bench and teams couldn't prepare for him.
Ultimately, he didn't make a single appearance at the 2006 World Cup, but Tite may be tempted to do something similar with Endrick.
With a talent as gifted as Endrick's, you want him to gain experience in tournament life.
Brazilian football expects the 16-year-old to be part of the Selecao for the next 15 years. What better way to acclimate him to international football than simply being in a tournament environment?
Brazil is overloaded with attacking talent
Endrick wouldn't expect to get minutes in Qatar as Tite has an incredible amount of attacking options.
Neymar, Vinicius Jr and Rodrygo are possibly his strongest forward trio. Then there are Raphinha, Antony, Richarlison, Roberto Firmino and Matheus Cunha.
Endrick's selection to train closely with those older players would allow him to learn something from them. Also, you can never turn down an option to get a wild card option off the bench.
Consider that Brazil is ahead in a knockout match but with 10 players. What better than to bring in a fresh and hungry teenage superstar to run the channels and give the Selecao a wide ball for the final minutes.
What makes Endrick so special?
Endrick will be in European football before you know it. He is too talented. There hasn't been a prodigy like him since Neymar.
Neymar's talent encouraged people to tune in for Santos matches in the middle of the night in Europe. Endrick has that star factor.
Like Erling Haaland, he just makes something happen every time he plays. In seven participations in the Copinha Sub-20, he has scored six goals.
Endrick plays anywhere on the front line, but he will probably establish himself as a centre-forward, which would make his move to the Brazilian team easier.
It's hard to pick a player Endrick is more like. He has fast feet in the Neymar style and technical qualities.
Also, you can find the net like Ronaldo Nazario. If Endrick adds physical power to his frame, then we may have a successor to the R9 on our hands.
Real Madrid and Barcelona already love him. Manchester City have searched for him extensively. Endrick is poised for stardom, and Tite, making a bold move that catapults the teen into mainstream consciousness, would create him long before anticipated.
PHOTO: IMAGO / Fotoarena