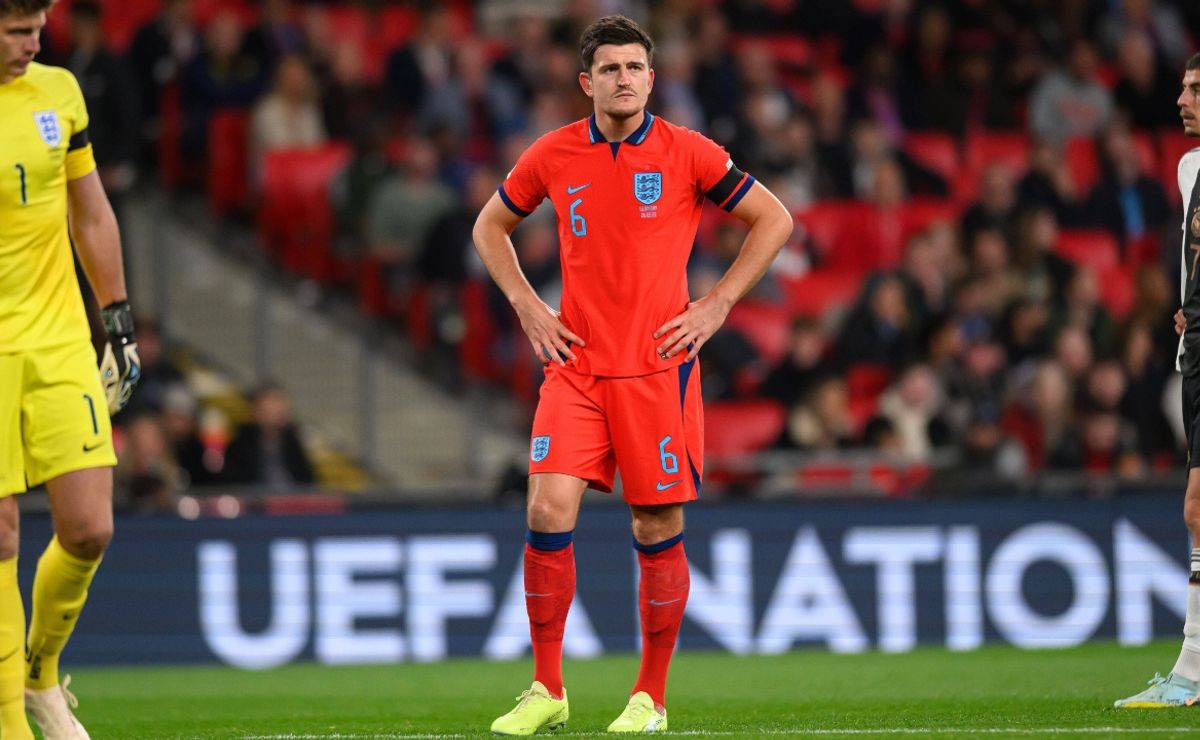 Harry Maguire is likely to feature in Gareth Southgate's England squad for the 2022 World Cup. However, there is a case against the 29-year-old's inclusion.
Southgate has a reputation for being fiercely loyal to players he trusts. That has been true since he took over in 2016. Six years, the length of his tenure as boss of the Three Lions, is a lifetime in football. In that time, Maguire served as lieutenant in the Southgate camp, from the defender's time at Leicester City.
Maguire played a key role for Southgate in England's recent successes. He started all but three matches at the 2018 World Cup and Euro 2020. He appeared in the Euro 2020 Team of the Tournament alongside Leonardo Bonucci.
Shortly after Southgate took office in England, he stated that he would "never mess with reputation". This has been a long-established problem for the national team. A succession of coaches selected superstar players and media favorites, regardless of form. Often this came at the expense of developing a functional and cohesive side.
However, despite making this statement, he has shown complete confidence in several players. For example, Jordan Pickford, Raheem Sterling, Harry Kane, Mason Mount, and of course Harry Maguire all appear regularly. The recent scrutiny surrounding Maguire will test this confidence ahead of a crucial tournament for England. FA President Greg Dyke singled out this particular tournament 10 years ago as one England should win.
Harry Maguire finds himself not only under immense pressure, but also at a crossroads in his career. Until this season, he was an automatic starter for both club and country. Now, it seems that Erik Ten Hag has lost faith in the man who is still the captain of the club. His place on the team is a point of debate, and there is less and less in favor of Maguire.
The case of starting Harry Maguire for England
Speaking last month, Southgate said of Maguire: "I know everyone says he's important to me. He is important to us. It's us, not me." He went on to say, "Why did we choose it? Because he is one of the players that gives us the most chances to win." It's clear his manager feels that Maguire's performances over the last five years for his country make him worthy of selection. His use of language is interesting: 'we' chose him.
Maguire seems to retain the trust of his teammates. Speaking to the BBC, Luke Shaw said: "Of course Harry is an amazing player, an amazing character. He has taken a lot of stick, probably more than I have seen before in football, but he never hides, he is always there. Everybody knows that he is an amazing player."
Jordan Henderson has also expressed his unwavering support for the centre-back. In March 2022, England played the Ivory Coast at Wembley, and Maguire was audibly booed by his own support. Henderson took to Twitter to write 'Harry Maguire has been a colossus for England. Without him, the progress made in the last two tournaments would not have been possible. As someone who wants to win with England, I feel lucky to share a dressing room with him. We all feel the same'. It certainly seems that Southgate's affection for the player is reflected in the rest of the team.
Maguire at his best
When Harry Maguire was in the form he was during the 2020-21 season, his best attributes made him a vital component of the England team. In this period, his confidence was at its peak and he was a forceful central defender and ball carrier.
Statistical analysis on Maguire showed strength in aerial duels. Maguire finished second in the league in this regard. Additionally, Maguire won most of the one-on-one duels he faced. Maguire then scored high when trying to get the ball out of defense. He was comfortable at the moment, under Solskjaer, defending in a central block alongside Victor Lindelöf.
Maguire has always been somewhat clumsy in performing his duties and has always lacked rhythm. In good form, though, Maguire combined good timing with high intensity and strength. This ensured that he won the ball most of the time. However, he was aware of his limitations. Tricky forwards and those with blinding pace at the back could have an advantage. Still, Maguire braced himself to win any contest.
The problem is that this version of Maguire hasn't been seen in quite some time, and his playing time this season has been minimal as a result.
The case for dropping Maguire
The confidence that Harry Maguire has earned came over a series of relatively consistent seasons, with Maguire acting confident. Certainly, he had never let his country down over the years and had been one of the reliable performers. The problem is that, at least for the last 18 months, this has no longer been the case. His atrocious form reached his lowest point in the 3-3 draw against Germany in September.
At that time, Maguire lost his place at United. However, Southgate kept the faith. He placed Maguire on the left side of his three-man defense. The calamity occurred in the back. Maguire first gave the ball away without any pressure on hi. He then conceded a penalty with a challenge that would make the word 'clumsy' not do him justice.
fall into confidence
Manchester United players have increased the pressure to succeed and perform on the biggest stage. Over time, his confidence has continued to decline. Speaking to TalkSPORT radio in September, Maguire said he silences critics.
"On my form, I don't know what's been said, I don't really read about it. I'm not concentrating on anyone else and what people are saying."
Of course, few are immune from seeing the ever-present flood of memes and compilations of Maguire's awkward defense style. Clearly, he affected English. The evidence is in the performances. Frankly, he wouldn't be human if he could silence the noise.
Both this season and last, he has lower defensive impact scores; he has lower scores on ball recoveries and interceptions; and he has much lower numbers for running and dribbling volume. He has made a number of high-profile mistakes. Where he was once eager to impact games and put himself in risky positions, he is now preoccupied with trying to avoid humiliation. At this stage, he will have very limited playing time available before England's opening game. Surely it would be unrealistic to expect him to be able to return to his previous high levels of performance during the tournament. His confidence is very low and there is no quick fix to remedy a damaged mindset.
A different role for England
One thing that favors Maguire's selection is the very different style of play that England will employ in the World Cup. In Ten Hag's United, the defense plays with a high line, trying to put pressure on their opponents and force play. This can expose Maguire's lack of recovery pace when he's facing counterattacks.
Maguire for England would play to the left of three centre-backs, with a deeper defensive line. This provides additional coverage for him. Plus, it allows you to be a proactive advocate. Maguire can advance the ball into midfield and down the left back, probably club-mate Luke Shaw.
There are alternative options. For example, Joe Gomez, Tyrone Mings, Fikayo Tomori, Conor Coady, and Ben White all play in the same venue. It's still a gamble throwing them into a World Cup lineup. None have the experience of international football like Harry Maguire, particularly in the Southgate system with England. For this reason, and despite his own form problems, Eric Dier may be the most likely replacement.
Southgate is pragmatic and values ​​solidity and continuity. He tries to reduce the amount of chaos and unpredictability in games and protects his trusted players. Consequently, he is hesitant to stray from his tried and tested formula. Therefore, he knows that no other English defender can offer what Maguire at his best can bring.
Recent evidence suggests it may end in disaster for player and country. However, Southgate is very likely to start Harry Maguire for England against Iran on November 21. It will be fascinating to see how it goes.
PHOTO: IMAGO/PA Images
World Cup 2022 Guide
Here are some resources to help you get the most out of soccer's biggest event!